School only started a few weeks ago, but the members of the Colburn School Conservatory's flagship ensemble, The Colburn Orchestra, held their first concert of the year this past Saturday night.  Yehuda Gilad, music director and wold-renowned clarinet pedagogue, led the first in a five concert series at the famed Ambassador Auditorium in Pasadena.  Thanks to the offer of free tickets combined with a publicity campaign rare for a student orchestra, the house was full.  Attendees that you'd expect to see at a classical music concert were joined by others that were atypical:  families with multiple small children, 18-year-old-ish young ladies in remarkably tiny dresses (Mark Swed would have had an absolute coronary).  No riots ensued — all were enthusiastic, but well behaved.
From my seat in Row L of the orchestra section, the venue's legendary acoustics highlighted all that was best with the orchestra.  There were times when you forgot you were listening to a student orchestra, with the impressive string section maintaining a unified, athletic tone throughout the evening.  On the other hand, there were moments when the Ambassador's acoustics gave the orchestra nowhere to hide,  providing challenges with regards to blend within sections and balances between them — one example:  the percussion was either overbearing or thin, with very little in between.  It's likely things will improve in future concerts as the players become more accustomed to their surroundings.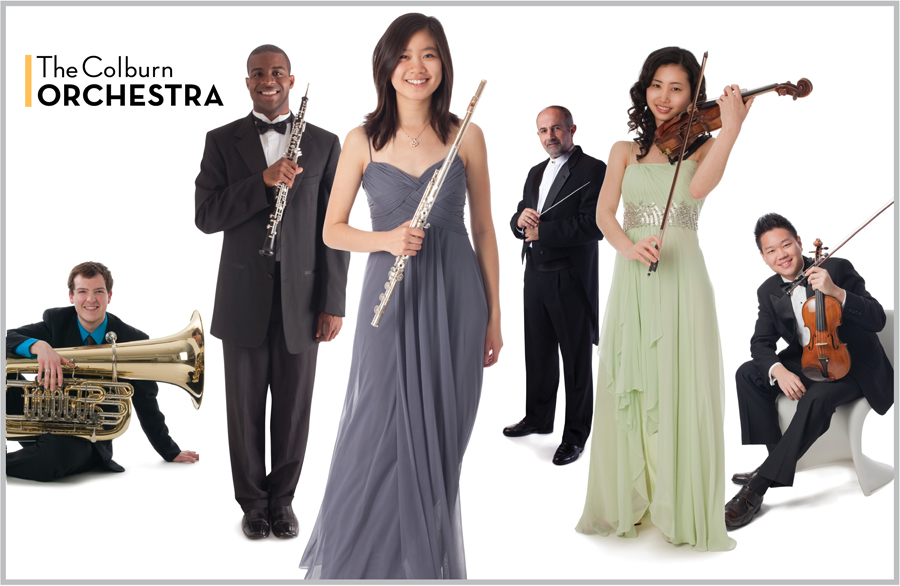 Modest Mussorgsky's Pictures at an Exhibition  (in the ubiquitous Ravel orchestration) provided the ideal showcase for the evening.  Maestro Gilad led a mostly middle-of-the-road interpretation that pleasingly avoided excesses of any kind, though his choice to take full pauses in between the individual sections sometimes led to losses in momentum.  That said, he took time to emphasize some interesting texture here and a rhythmic tug there to give the work some personality and avoid it sounding generic; his choices with "Tuileries" were particularly effective in adding an extra bit of air and whimsy to the movement. When he gave individual sections an opportunity to shine, they didn't let him down.
Notable individual contributions were many. Trumpeter Joseph Brown gave the opening "Promenade" verve and nobility, then later played the muted piccolo trumpet solo in "Samuel Goldenberg and Schmuyle" with incisive flair.  The dialogue between the hauntingly plangent saxophone of Christopher Bartz (on loan from USC's Thornton School of Music) and Andrew Brady's beautifully nuanced bassoon during "Il vecchio castello," with support by the rest of the woodwinds and strings, was easily my favorite part of the evening.  Spencer Brown played the tuba solo in "Bydlo."  The entire woodwind section shined during "The Ballet of Unhatched Chicks," led by Franceso Camuglia (Principal Flute), Titus Underwood (Principal Oboe), Sang Yoon Kim (Principal Clarinet), and Mr. Brady.
Earlier, the lone violin concerto of Antonin Dvořák served as the evening's centerpiece, with solo duties gamely dispatched by Francesca dePasquale, a senior in Colburn's Bachelor of Music program and scion of the prominent Philadelphia musical family.  Full disclosure:  I've never been a fan of the Dvořák concerto; there's nothing particularly bad about it, just nothing compelling about it either.  Regardless,  Ms. dePasquale deserves praise for a fine performance.  While she seemed to be able to navigate the thornier passages without trouble, she was at her best during the second movement Adagio, playing with tenderness and suavity without ever allowing it to sound like mush.  When she completed the hum-along finale, the vast majority of the audience rewarded her efforts with a standing ovation.  It will be interesting to see where her career takes her.
WARDROBE WATCH:  For the record, Ms. dePasquale looked quite lovely, her sleeveless floor-length tiered ecru dress with black sash fashionably highlighting her statuesque frame.  Even prudish Los Angeles Times music critics should  have no problems giving her outfit a G-rating (unless perhaps he thought the skin exposed by her bare arms were a bit too much) .
The concert began with Berlioz's Roman Carnival Overture.  The orchestra gave a rousing performance, and when it was done, Mr. Gilad asked English Horn soloist John Winstead to acknowledge the audience's applause — and soon after, asked the entire viola section to do the same.
Overall, it was a very enjoyable evening for which the Colburn School, Mr. Gilad, and the orchestra should be proud.  Was everything perfectly played?  No.  There is certainly room for improvement.  But despite the occasional misstep, the orchestra invested their playing with musicality and energy, Mr. Gilad never settling for just mechanical perfection even when his musicians were able to clear all the technical hurdles placed in front of them.  It will be interesting to see how the orchestra grows and develops over the course of the year.
Colburn Orchestra September 24, 2011
Yehuda Gilad, music director and conductor
Francesca dePaquale, violin
Berlioz: Roman Carnival Overture
Dvorak: Violin Concerto
Mussorgsky: Pictures at an Exhibition (orch. Ravel)
—————
photo credits:
The Colburn Orchestra:  The Colburn School
Francesca dePasquale:  courtesy of Francesca dePasquale