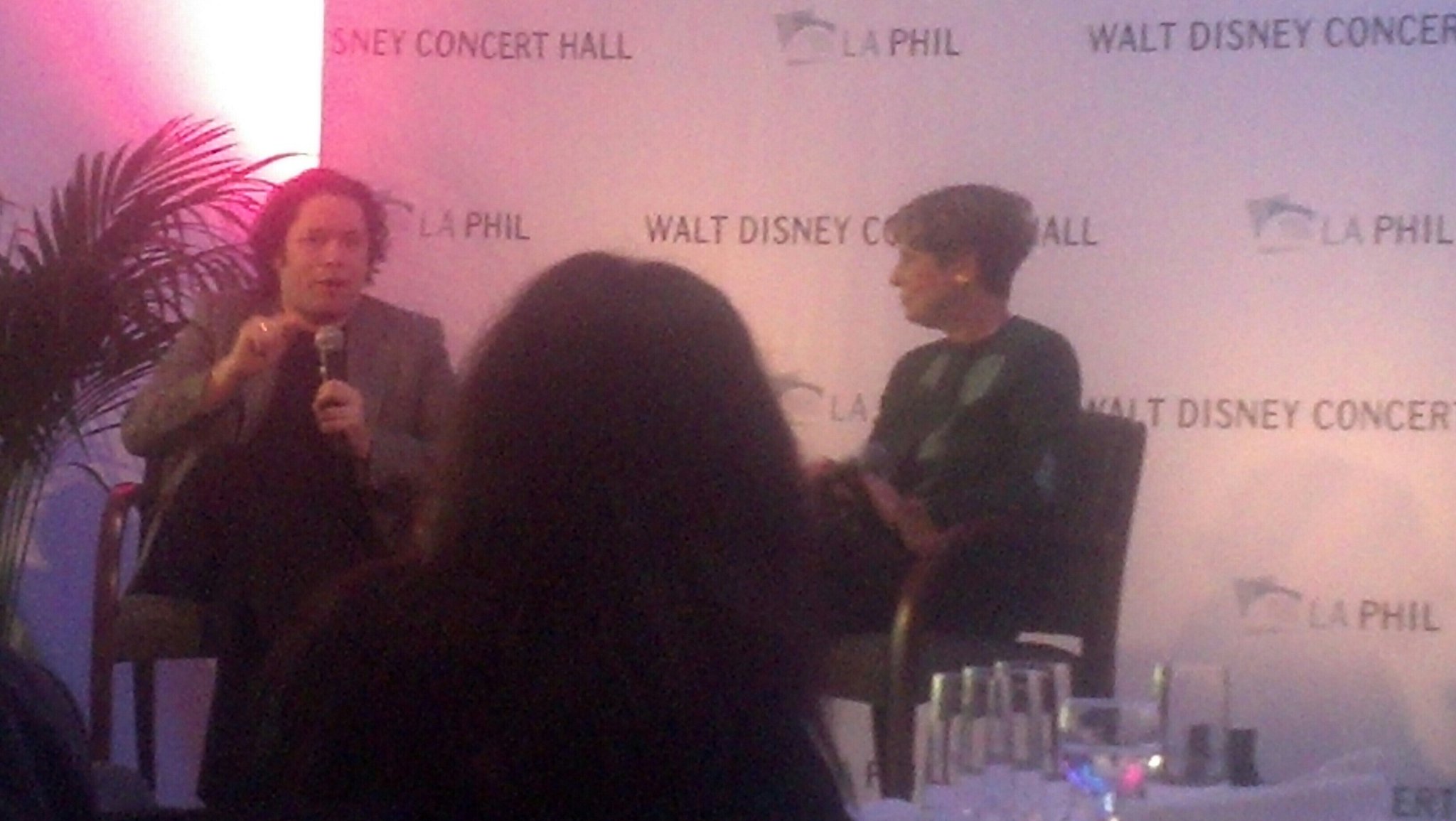 As promised, I did my best to tweet details of the upcoming Los Angeles Philharmonic 2013/2014 season.  That said, I'm sure there are those among you who didn't follow along for whatever reason — perhaps you were otherwise occupied, or maybe you just don't do that newfangled Twitter thing, or the dog ate your homework.  In any case, you can see the entire stream of consciousness HERE, some of which are included in my observations below (after the jump).
The entire press packet is available online (HERE).  That said, there were some interesting things mentioned at the press conference (aka "the presser" if you'll permit me) that ARE NOT in that press release — the biggest one is this:
Deborah Borda (President and CEO) mentioned that in conjunction with the orchestra's upcoming "Minimalist Jukebox Festival," the Los Angeles Philharmonic will collaborate with Long Beach Opera in a performance of The Death of Klinghoffer.
Wait . . . what was that?  Really??!!!
The long saga about John Adams's controversial opera will take forever to try to explain here, but suffice it to say that this is a big deal — "Klinghoffer" has never been performed in Southern California despite the fact that Los Angeles Opera was one of the original commissioning organizations.  I've asked for additional information, and we'll see if I/we get any in the coming day or two.  (UPDATE, Feb 27:  per the Los Angeles Times, Long Beach Opera confirmed that they will present The Death of Klinghoffer in 2014, with James Robinson directing.  No other details were given).
In the meantime, here are some other observations about the 2013/2014 season:
There are no conductors visiting that haven't already conducted the orchestra in the past.  Don't remember the last time that happened.
Gustavo Dudamel will conduct 12 different subscription programs, plus the opening night gala and some community concerts around So Cal and at WDCH before the gala.  He will also take the LA Phil on tour to San Francisco, Kansas City, New York, Washington DC, Toronto, Montreal, and Boston.  Rather disappointingly, he will NOT be conducting any Green Umbrella concerts.
Esa-Pekka Salonen will be here in for two weeks in October.  This time, he won't be doing any opera, but on the actual 10th Anniversary of Walt Disney Concert Hall's opening (Oct 23, 2013), he will be conducting the world premiere of the complete version of Frank Zappa's 200 Motels.
No one besides Messers. Dudamel and Salonen conduct more than one week of concerts.
Nice to see that Charles Dutoit, Christoph Eschenbach, and Rafael Frühbeck de Burgos are coming back again for their regular annual visit.
Notable guest conductors who aren't visiting this season but will be returning in 2013/2014 (in no particular order):  James Conlon, Stéphane Denève, Semyon Bychkov, Christian Zacharias.  Also, Manfred Honeck and Krzysztof Urbański make their WDCH debuts.
Notable guest conductors who aren't visiting 

 

next season:

   Simon Rattle (sigh), Zubin Mehta, David Robertson, Vasily Petrenko (bummer), Susanna Mälkki and Pablo Haras-Casado (whew), among others.
The return of the "Minimalist Jukebox" Festival is kinda fun, but not sure if we really need a Tchaikovsky Festival.  I like his music and all, but isn't there enough Tchaikovsky being played without making a big deal about it?
Visiting orchestras:  The Simon Bolivar Symphony from Venezuela . . . and that's it.  VERY disappointing.
No Mahler symphonies (shocking) and only one Bruckner Symphony (the 8th conducted by Mr. Bychkov).
New music:  11 world premieres, 4 U.S. premieres, and 4 West Coast premieres.  Dudamel conducts three of the world premieres (by Peter Lieberson, Daniel Bjarnason, and Andrew Norman) and a U.S. Premiere from Brett Dean.  Salonen presents the aforementioned Zappa work plus Oliver Knussen's Cello Concerto (which the LA Phil commissioned a LONG TIME AGO).
Only two works each from Debussy or Stravinsky.  Sad, just sad.
My favorite concert is a toss-up between one of the Salonen concerts in October (Debussy/Knussen/Bartok, with cellist Anssi Karttunen) and a Dudamel concert in  December right before Christmas (Bjarnason/Rachmaninoff/Stravinsky, with pianist Yuja Wang).  Also happy to see Corigliano's Symphony No. 1 showing up in March; bummed that it's paired with a Brahms symphony, but if it must be that way, at least it is the second.
I could go on, but that's enough for now.  I've got lots of reviews to finish writing, and I'd better get on that again.  In the meantime, curious to see what others think.
—————
Photo credit:  CK Dexter Haven